Surrey Cricket Foundation's Street Projects went head-to-head last month in a Street Cricket Competition Day at Chestnut Grove Academy.
First up were the U12s, with Croydon, Merton, Sutton and Wandsworth all taking part. All four teams played each other in a round-robin format that consisted of 6 fixtures. Merton set the pace in the group and emerged with 3 wins from 3 after some very impressive bowling display, limiting their opponents to sub-par totals. Croydon then took 2nd spot in the group, winning 2 out of their 3 games, with Wandsworth and Sutton making up the remaining places in the table.
Merton played Sutton in the first semi-final, with Merton opting to bowl first. This proved to be a great decision and continued to play to their strengths by bowling Sutton out for only 18 runs. Merton then successfully chased down the target of 19 in 12 balls only losing 1 wicket along the way. In the second semi-final, Wandsworth and Croydon faced off, with Wandsworth electing to bat first. After posting a defendable total of 27, it was now up to Croydon to chase down 28 runs off 20 balls. Croydon were up to the task and only required 14 balls to claim their spot in the final.
The highly anticipated final between Merton and Croydon did not fail to disappoint. Croydon won the toss and put Merton into bat. A good bowling display from Croydon saw them restrict Merton to 23 runs, picking up crucial wickets along the way. It was now up to Croydon to back up their performance with the bat. After scoring 17 runs off 3 overs, the final looked like it was staying with the defending champions Croydon, however with some reckless running between the wickets and some tight bowling, Merton emerged victorious, sealing an unbeaten tournament.
Highlight of the tournament was the 3rd and 4th playoff match between Sutton and Wandsworth. Sutton batted first and scored a fragile total of 20 runs from their 5 overs. Wandsworth looked to be in control of the run chase, however wickets started to tumble towards the latter phases of the game. A fantastic over from Siddart, which contributed to him winning bowler of the tournament, saw him claim a triple wickets maiden in the final over of the match, limiting Wandsworth to only 16 runs from their 5 overs.
Player of the tournament: Ayaan (Merton)
Batter of the tournament: Ibraheem (Croydon)
Bowler of the tournament: Siddart (Sutton)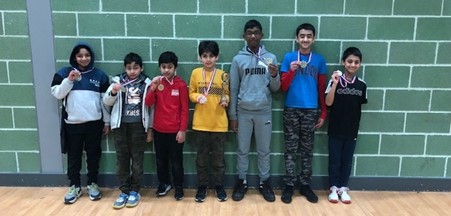 Next up were the U15 teams from Croydon, Wadsworth, Sutton A and Sutton B. All four teams played each other in a round-robin format that consisted of 6 fixtures. It was a topsy turvy group with Croydon, Wandsworth, & Sutton A all showing glimpses of topping the group, only to succumb to defeat in the next game. Ultimately Wandsworth won the group, with Croydon clinching 2nd spot. This meant that both Sutton A & B would compete in the 3rd place play-off, with Wandsworth and Croydon battling it out in the final.
In the 3rd place play-off game, Sutton B were put into bat first and made a positive stat scoring 8 runs off the 1st over. However, after losing a couple of wickets and being put under pressure with dot balls, runs were starting to dry up. Sutton B amassed a total of 22 runs from their 20 balls, which based off their previous batting performances was a sub-par score for them. Sutton A were let off in the first over, as a couple of dot balls were undone by 2 wides to follow which in this formant costs you 6 runs. They then only required 17 runs to win from 16 balls. Ultimately Sutton A only needed a further 9 balls to chase down the target and did so without losing a wicket.
Croydon versus Wandsworth was an eagerly awaited final and a repeat of the October Street final, which Croydon came out on top. The defending champions were put into bat first and started well. 16 runs were scored off the first 8 balls, although Wandsworth were feeling confident after taking 2 key wickets. Croydon continued to score fluently and posted a very respectable 36 runs from their 5 overs. Wandsworth were looking to avenge their previous defeat, although it was apparent early on that they were feeling the pressure. 7 runs from the first 8 balls, with the loss of 2 wickets meant their backs were up against the walls. Eventually the pressure proved to be too much, with Wandsworth all out for 19 runs, meaning Croydon successfully defended their crown and becoming back to back U15s champions.
The highlight of the tournament came in the round-robin phase, where Wandsworth met Sutton A in the second fixture of the day. Wandsworth were put into bat first and made a very respectable 33 runs with the loss of only 1 wicket during their 5 overs. Sutton A were in deep trouble after being 4 wickets down in the 3rd over after only having amassed 16 runs. However, a couple of crucially timed 6s propelled Sutton up to 29 and therefore only needing 5 runs from the final 5 balls. The final over was tight and tensions were high. Sutton were on course for the win as they picked up 4 runs from the first 3 balls of the over, but the topsy-turvy game had one more twist, when Wandsworth claimed a wicket on the final ball of the game and salvaged a draw. This ended up being a decisive point in the final outcome of the league table, which decided the final and 3rd v 4th playoff match.
Player of the tournament: Abubakar (Croydon)
Batter of the tournament: Sebastian (Wandsworth)
Bowler of the tournament: Theeran (Sutton A)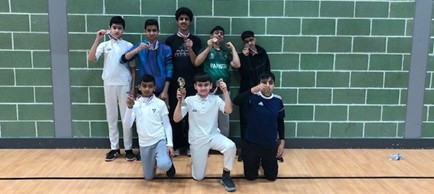 Finally, two teams, AFG Warriors and Wandsworth, represented the U24s Street competition in a best out of three, multi series format. The 3 formats used in this competition included a 40 ball match, 2 innings 20 ball test match, & 20 ball match. Winners of each game were awarded 2 points, with 1 point being shared between the teams if it ended in a draw. Both teams had previously been involved in the Street League.
AFG Warriors opted to bat first in the opening 40 ball match and got underway in a very steady manner. The first 20 balls were largely uneventful, with both sides reasonably happy with 34 runs coming off it. The batting side hit another gear in the second phase of the innings, scoring an impressive 68 runs, taking their total to 102-2. AFG Warriors score six 6s and five 4s. Wandsworth needed 103 to win off 40 balls which was not an easy task. Their run chase didn't get off to the best of starts with a wicket falling on the first ball of the innings. They did however manage to steady the ship to a certain extent and posted 34-3 off the first 20 balls, which was on par with AFG's start. A few more wickets taken by the bowling side meant that they were into the tail and although they batted resiliently, Wandsworth only amassed 72 runs in total and fell 31 runs short of the target. 2 points awarded to AFG Warriors.
The second match was a new format, where each team had to bat for x2 20 ball innings. Wandsworth were put into bat knowing they had to win this game to avoid losing the series. Two maximums from the get-go put the batting side in a strong position out the gate, however the 2nd over proved to be very costly, with a double wicket maiden leaving them in deep trouble. The innings was somewhat salvaged by managing to post a total of 26 after having lost 5 wickets, but more runs on the board would have given the Wandsworth bowling attack more protection. AFG Warriors were batting with supreme confidence and effectively wiped out Wandsworth's lead in the first over by scoring 21 runs, including 3 maximums. Over 4 contained even more devastation when a 6 was scored off every ball. AFG Warriors went on to post 68 from their 5 overs and cemented a commanding position after the first innings. Wandsworth needed to score 42 runs just to score level with AFG Warriors. A much improved batting innings saw them score with freedom and ease. A flurry of 4s and 6s propelled Wandsworth to 57 runs off their 5 overs which although was a very respectable score, combined with their first innings meant they were only protecting a lead of 14 runs. AFG Warriors only needed 5 balls to chase down to the target and take an unassailable lead of 4-0 going into the final game which meant they had won the street competition.
Highlight of the game had to be the double wicket maiden, which is a very tough feat to pull off during an indoor match due to limited number of fielders and easy scoring capabilities.
Player of the tournament: Shahyrar (AFG Warriors)
Batter of the tournament: Sameer (AFG Warriors)
Player of the tournament: Shabir (AFG Warriors)